Eutrophication, barriers to fish migration and environmental pollutants are the most serious environmental problems in the Northern Baltic Sea River Basin District. LIFE IP Rich Waters aims at developing new and better methods to combat these problems in a cost-effective way.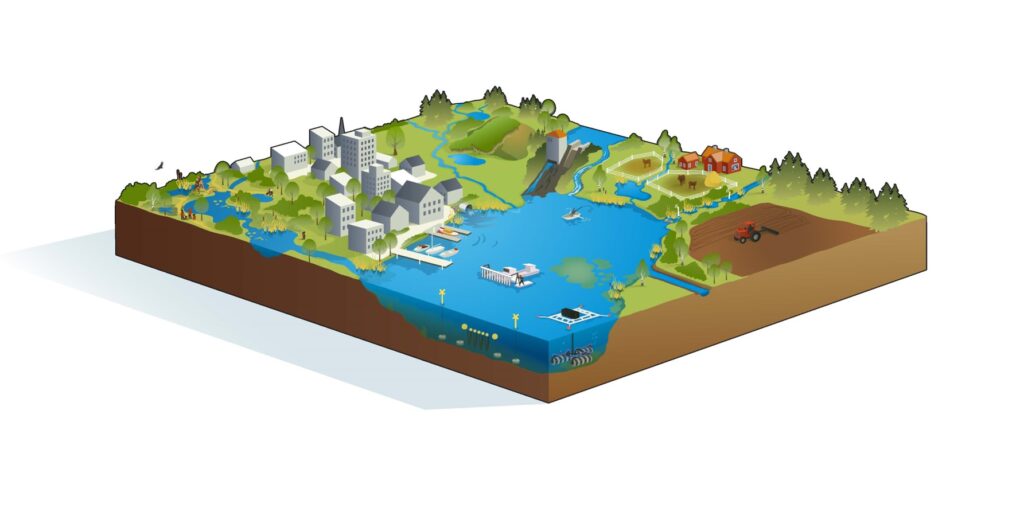 The project addresses five main thematic areas, described below. More information about each sub-action is available in Swedish. Summaries, and in some cases full versions of our publications are available in English.
Water planning
Water issues are found in many areas of municipal activity, such as planning and construction processes, environmental monitoring and sewage management. Other important stakeholders in water planning are national and county level authorities and companies.
1. Improved implementation
Results will be used for national guidelines and general application in other Swedish River Basin Districts.
2. Integrated water planning
Development and management of an advisory function for water planning at the municipal level and new approaches to plan for good water status.
Within this project a handbook for strategic water planning has been produced. Read the summary of the handbook
3. Climate adaptation and ecosystem services
Identification of overflow areas, contaminated areas and the effect on water status and ecosystem services. The projects includes identification of water related ecosystem services today and in the future, taking into account climate change.
4. Project development and coordination
Project development to plan, finance and build partnerships for new complementary actions.
Eutrophication from agriculture, waste water and storm water
Eutrophication is one of the most serious environmental problems in the Northern Baltic Sea River Basin District. Almost all coastal waters and half of the lakes and other waters bodies in the districts are considered to be affected by eutrophication.
This theme deals with all sources of nutrients transported from catchment areas to water bodies. Our sub-projects include:
5. Better eutrophication policy instruments
Analysis of eutrophication policy instruments to decrease eutrophication from agriculture.
6. Planning tools for farmers and catchment officers
Emissions from agriculture is one of the largest diffuse sources of phosphorus emission to water. It has often proven notoriously difficult to exactly pinpoint the sources of these emissions from agriculture because of their large temporal and spatial variation. This can result in that an apparently correct measure is implemented in a less than optimal place. The planning tools provide a framework and working method for how sources of emission and suitable counter measures can be identified at both the farm and at the catchment level.
The planning tools have been developed by the County administrative boards of Stockholm, Södermanland, Uppsala, Västmanland and Örebro together with agricultural consultants and the help of participating farmers.
Reduced nutrient losses from horse keeping
The number of horses in Sweden now exceeds the number of dairy cows. Many horses are kept privately, with just a few horses often kept in quite small paddocks. Nutrient losses from these paddocks can be substantial and in catchment areas where there are a large number of horses, these losses can make a significant contribution to eutrophication.
Many horse keepers, both private and professional, have little experience of agriculture and how drainage and manure should be managed to reduce the risks for nutrient losses to water. A planning tool has therefore been developed to help horse keepers to identify how these losses can be minimised.
This project also includes a pilot project with concrete measures to reduce nutrient load in horse keeping.
7. Decrease eutrophication at the river basin level
Capacity building and planning to decrease eutrophication from agriculture at the river basin level, in rivers Sagån, Kilaån and Hågaån.
Brunnby farm: Demonstration of measures to keep nutrients on land
At Brunnby farm outside of Västerås a demonstration area has been established with financial support from Rich Waters. The area showcases different types of measures to reduce nutrient losses from agricultural land and is laid out as a round walk with different stations.
Brunnby is a demonstration farm run by the agricultural consultancy group Hushållningssällskapet. They organise an agricultural show, Brunnby farmer days, with more than 5 000 visitors annually and more than 150 exhibitors. Visitors are given an opportunity to visit the demonstration area and receive information on the measures implemented to reduce nutrient losses.
8. Decision support tools
The Swedish University of Agricultural Sciences, SLU, has developed maps that show risks areas for erosion and surface run-off from arable land. It has also developed maps showing modelled transport of phosphorus through the agricultural landscape, indicating the optimal size constructed wetlands should have for optimal nutrient retention.
Phosphorus losses from agricultural land have a large temporal and spatial variations and are therefore difficult to measure using traditional sampling and analytical methods. In this project SLU has in association with other partners also evaluated the use of sensors to provide semi-automatic and continues measurements of phosphorus losses.
9. Storm water purification
Finding phosphorus and pollutants in storm water – best practice and innovation.
10. Multi-functional water parks
The municipalities of Uppsala, Västerås and Smedjebacken have each established a multifunctional water park. The aim of the parks is to act as nutrient filters, increase biodiversity and provide a recreational area. The design and layout of each park is unique and have had the local conditions as starting point. The parks have proven to be both effective and popular with the general public. The experiences obtained in the process of establishing these parks have been compiled in a report that may be used as a guide for other municipalities that are considering construction of similar parks. The project includes exchange of knowledge and experience between all stakeholders and water parks in Västerås, Uppsala and Smedjebacken.
Eutrophication from internal loading
Eutrophication of lakes and coastal waters is enhanced when phosphorus and other nutrients leak from the sediments into the water – so called internal loading.
11. Handbook for measures against internal loading of phosphorus
Internal phosphorus loading, the release of phosphorus accumulated in lake sediments, is a hard to detect source contributing to eutrophication. In this project scientists from SLU and IVL in collaboration with county administrative boards, municipalities and water associations have developed a decision support tool for internal loading in the form of a handbook. The first part of the handbook is a hand-on guide on how to identify whether internal loading is a significant contributor to eutrophication. The second part goes through different measures to reduce internal loading and discusses their merits, under which circumstances they may be suitable, and their potential risks. 
12. Restauration of Lake Öljaren
Dredging of lake sediment as a measure to reduce internal loading has been around since the 1970's. The measure has not always been successful and has serious negative side effects such as the release of large amounts of particles to the lake water, and removal of important fauna and flora from the lake bottom.
The municipality of Katrineholm is testing and further developing low-flow dredging to gently remove the top layers of the most nutrient-rich sediment using suction. The water-rich sediment is pumped onto land where it is dewatered in geotextile bags. The effluent is treated to further reduce the phosphorus content, after which it is returned to the lake. The dewatered sediment is spread on nearby agricultural land, where it will be re-used as fertilizer.
13. Treatment of Lake Norrviken
In this project the municipalities of Upplands Väsby och Sollentuna have treated lake Norrviken with aluminium salt to bind phosphorus in the sediment and thus reduce internal loading and eutrophication. The treatment has, as expected, reduced algal blooms and improved water quality. Interviews with local residents have shown that many were very positive to the improvements in water quality that the treatment has achieved. An important part of the project is, however, also to follow up the effects of the treatment on important biological components of the lake such as aquatic flora and fauna, and the content of pollutants in fish. Such follow-ups are unfortunately only too rare.
14. Mussel farming in the Northen Baltic Sea region
Mussel farming is an established commercial practice along the coasts of many European countries. In the brackish water of the Baltic Sea, however, the growth rate is too slow, and eventual size of mussels too small to make mussel farming commercially viable.
Apart from providing a source of food, mussels clean water through their filtering actions, and accumulation of nutrients in their bodies. In this project, Ecopelag is testing and developing mussel farming in the coastal waters of the Baltic Sea as a viable way to both reduce eutrophication and provide a source of animal feed and fertiliser for agriculture. The project has since its start and the first successful trials attracted interest and funding from many different sources. This has made it possible to start a new mussel farm in the Stockholm archipelago which aims to harvest 100 tonnes mussels every other year, and thus producing 25 tonnes of animal feed, while removing significant amounts of nutrients from the Baltic Sea.
Connectivity
Many fish species need to be able to move up and downstream in water ways and lakes. Their paths are currently hampered by ponds, power plants and other physical barriers in the aquatic environment.
15. Strategy to recover connectivity
Development of a systematic strategy and toolbox on how to recover connectivity of rivers in the Northern Baltic Sea River Basin District.
16. Free migration passages for fish in a city context
Construction of fish passages and demonstration sites at Slottsbron and Falkenbergska kvarnen in Västerås.
17. Adaptation of hydropower to benefit endangered species
Adaptation of hydropower to reach good water status in rivers Rällsälven and Hedströmmen, protecting endangered Natura 2000 species.
Environmental pollutants
Environmental pollutants in surface water can be derived from today's industries and households, but are also a result of old emissions and polluted land.
18. Measures for emission reduction of pollutants
Coordination of sampling of contaminants and identification of measures for emission reduction of contaminants in water, biota and sediments.
19. Salix to remediate contaminated areas
Testing and evaluation of biological methods to remediate contaminated areas, using biomass forestry (salix).
20. Boat bottom washes
Construction of two boat bottom washes, in Stockholm and in Västerås, to limit the use of toxic anti-fouling.