Eutrophication, barriers to fish migration and environmental pollutants are the most serious environmental problems in the Northern Baltic Sea River Basin District. LIFE IP Rich Waters aims at developing new and better methods to combat these problems in a cost-effective way.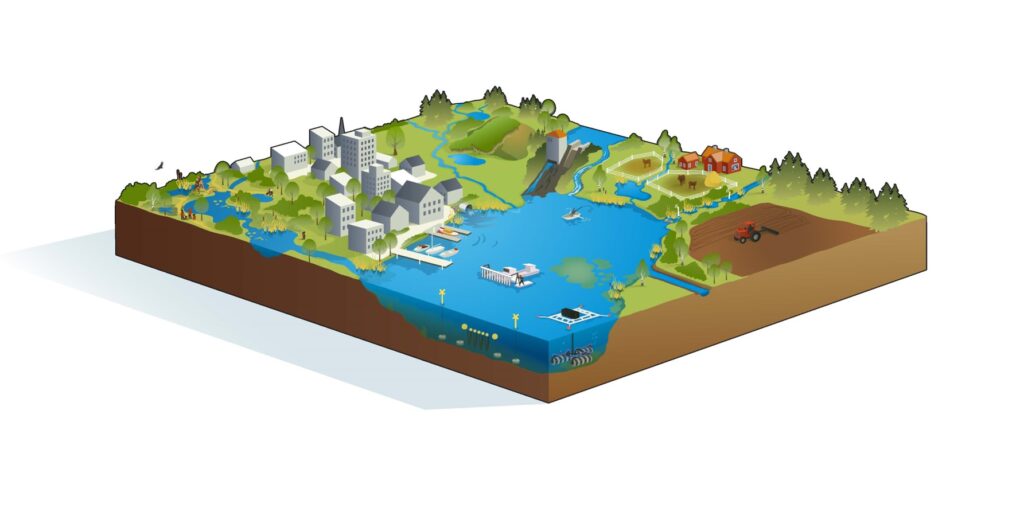 The project addresses five main thematic areas, described below. More information about each sub-action is available in Swedish.
Water planning
Water issues are found in many areas of municipal activity, such as planning and construction processes, environmental monitoring and sewage management. Other important stakeholders in water planning are national and county level authorities and companies.
1. Improved implementation
Results will be used for national guidelines and general application in other Swedish River Basin Districts.
2. Integrated water planning
Development and management of an advisory function for water planning at the municipal level and new approaches to plan for good water status.
Within this project a handbook for strategic water planning has been produced. Read the summary of the handbook
3. Climate adaptation and ecosystem services
Identification of overflow areas, contaminated areas and the effect on water status and ecosystem services. The projects includes identification of water related ecosystem services today and in the future, taking into account climate change.
4. Project development and coordination
Project development to plan, finance and build partnerships for new complementary actions.
Eutrophication from agriculture, waste water and storm water
Eutrophication is one of the most serious environmental problems in the Northern Baltic Sea River Basin District. Almost all coastal waters and half of the lakes and other waters bodies in the districts are considered to be affected by eutrophication.
This theme deals with all sources of nutrients transported from catchment areas to water bodies. Our sub-projects include:
5. Better eutrophication policy instruments
Analysis of eutrophication policy instruments to decrease eutrophication from agriculture.
6. Water plans at the farm level
Water planning advisory function at the farm level. This project also includes a pilot project with concrete measures to reduce nutrient load in horse keeping.
7. Decrease eutrophication at the river basin level
Capacity building and planning to decrease eutrophication from agriculture at the river basin level, in rivers Sagån, Kilaån and Hågaån.
8. Decision support tools
Decision support tools, such as maps and models, to reduce eutrophication from agriculture and optimize localization and choice of measure at local and regional scales.
9. Storm water purification
Finding phosphorus and pollutants in storm water – best practice and innovation.
10. Multi-functional water parks
Multi-functional water parks as storm water treatment and post purification step for sewage water. The project includes exchange of knowledge and experience between all stakeholders and water parks in Västerås, Uppsala and Smedjebacken.
Eutrophication from internal loading
Eutrophication of lakes and coastal waters is enhanced when phosphorus and other nutrients leak from the sediments into the water – so called internal loading.
11. Tools to combat internal loading
Development of tools to combat internal phosphorus loading in lakes and coastal waters.
12. Restauration of Lake Öljaren
Environmentally friendly removal of phosphorus-rich sediment from Lake Öljaren. The sediment will be re-used as fertilizer in agriculture.
13. Treatment of Lake Norrviken
Performing a full treatment of stop internal phosphorus loading in Lake Norrviken, including an evaluation of possible adverse effects on contaminant levels in fish.
14. Mussel farming in the Northen Baltic Sea region
Demonstration and evaluation of mussel farming as an in-situ measure for nutrient reduction of eutrophication of coastal waters in the Stockholm archipelago.
Connectivity
Many fish species need to be able to move up and downstream in water ways and lakes. Their paths are currently hampered by ponds, power plants and other physical barriers in the aquatic environment.
15. Strategy to recover connectivity
Development of a systematic strategy and toolbox on how to recover connectivity of rivers in the Northern Baltic Sea River Basin District.
16. Free migration passages for fish in a city context
Construction of fish passages and demonstration sites at Slottsbron and Falkenbergska kvarnen in Västerås.
17. Adaptation of hydropower to benefit endangered species
Adaptation of hydropower to reach good water status in rivers Rällsälven and Hedströmmen, protecting endangered Natura 2000 species.
Environmental pollutants
Environmental pollutants in surface water can be derived from today's industries and households, but are also a result of old emissions and polluted land.
18. Measures for emission reduction of pollutants
Coordination of sampling of contaminants and identification of measures for emission reduction of contaminants in water, biota and sediments.
19. Salix to remediate contaminated areas
Testing and evaluation of biological methods to remediate contaminated areas, using biomass forestry (salix).
20. Boat bottom washes
Construction of two boat bottom washes, in Stockholm and in Västerås, to limit the use of toxic anti-fouling.