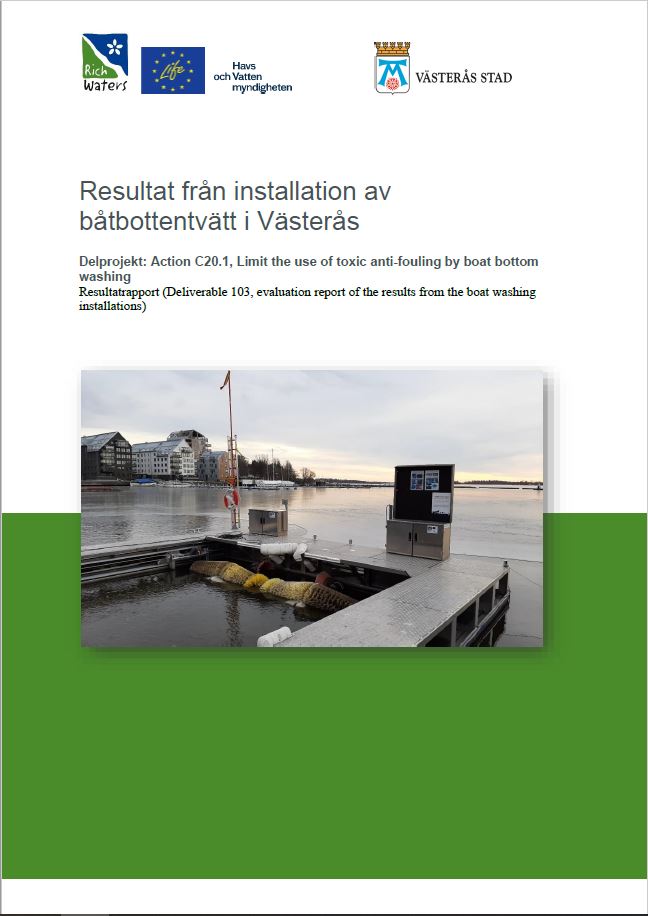 Summary
The objective of our work is to reduce emissions of pollutants from recreational marine antifouling paints. Västerås has one of Sweden's largest contiguous recreational marinas, where the City of Västerås, can offer 3,200 berths.
Since Lake Mälaren is an important drinking water source for several million people, it is important that all activities and stakeholder contribute to a good chemical status in Lake Mälaren. A major source of pollution are boats boat bottoms painted with biocidal paint. Therefore, it is important for the City of Västerås to contribute in various ways to the end of these emissions.
Historically, toxic boat bottom paints have been used for a long time to prevent unwanted growth on the bottom of the boats. Instead of preventing this with toxic boat bottom paint, you can instead use mechanical cleaning to remove any growth. The City of Västerås has, within the project LIFE IP Rich Waters, acquired a brush washer-type boat bottom wash to offer the boat owners in Västerås an viable alternative to toxic boat bottom paint. The boat bottom was is located at Kraftverkshamnen and was installed during 2020. In addition to this, the City of Västerås has also offered the service to measure the color of boats with XRF spectrometers, to ensure that the boat bottom paint is non-toxic. This is a requirement to use the boat bottom wash in Kraftverkshamnen.
This report intends to evaluate the project and report results. The establishment of the boat bottom wash has been monitored partly by collecting data on the number of users, and secondly through a survey aimed at evaluating the function as well as opinions of users and boat owners in the area. The survey shows that many people know that there is a boat bottom wash in Västerås. However there is many areas where there is room for improvement to increase accessibility and use of the boat wash long term.
As a complement, the City of Västerås, has reviewed sales statistics of toxic boat bottom paints. This review shows a decrease in the purchased toxic boat bottom paint and an increase in non-toxic paint during the period 2012-2020. However, it is possible to distinguish an increase in west coast paint in 2020. The statistics may be somewhat uncertain as color can be ordered via the internet, but the trend is still clear.